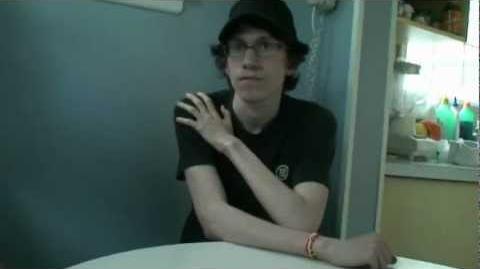 Our Meet-up is the thirty-sixth episode of TribeTwelve, and the 36th video of season 1. It was uploaded on September 10th, 2012.
Description
I met up with the guys over at DarkHarvest and we agreed upon trying to set me up an interview with the secret organization, the Order, to inquire about Mary Asher.
Transcript
[Video opens in Daniel's car, driving down a suburban street. Noah is in the passenger seat.]
Daniel: All right, so he told me his address. I've never actually been to his house, so, I mean, it's...I think it's that one right  there. I'm gonna drop you off, I'm starving. And I'll just come back after, if that's all right.
Noah: OK.
Daniel: All right.
Noah: All right, I will see you a little bit later. All right, thanks a lot, man.
[Noah gets out of the car. The camera watches as Daniel drives away. Noah walks down the sidewalk. A jump cut occurs. Noah is panning the camera around the street and up to the sky.]
Noah:  Okay. Finally in New Jersey again...[Sigh] visiting DarkHarvest, as they're called. Hopefully there will be some information they can give me about Mary Asher being in this organization or cult or whatever.
[Noah turns up the sidewalk to the house.]
Noah: Think this is definitely the house, yes. [Rings bell] I just hop that they're as nice as the last guys I went to. Hello?
[The door opens.]
Alex: Noah! Come on in.
Noah: Hi, hey guys. How you doing?
Chris: I'm Chris, that's--
Noah: Oh, I know you guys, I've seen you on like...
Chris: That's Alex.
Noah: ...On the Internet. Alex, Chris.
[Awkward handshakes, since both Chris's and Noah's right hands are occupied with cameras. Tangle of overlapping "Nice to meet you"s.]
Noah: We have--
Alex: We have a table over here.
Chris: It's funny seeing someone else with a camera.
Noah: I hope it's OK for me to film, all right? 
Chris: Yeah, yeah.
Noah: I just want to document every--
[Jump cut to the three, sitting at a kitchen table. Angle flickers around to catch all three men, then steadies. Alex is now holding DarkHarvest's camera, a Sony CyberShot.]
Noah: All right, let's start this thing. I'm here with Dark Harvest guys, Alex and, uh, Chris. I came all the way up here to New Jersey because there is a link between this organization that I found out about called "the Order" and, one of my viewers, named Sam, he was doing some research and he found this manifest from 1985 that talked of my aunt, Mary Asher, who I'm trying to find. She's been on the run since...many, many months now, and I need to get in contact with her. And this is the only link that I have that I can find her, because she is like off the face of the earth. So if there's any way that you guys can help me figure out, like, about this cult, if I can maybe set up a meeting or anything? Whatever they are. That'd be great. So what can you guys do? Can you tell me any information on them?
Alex: We don't know much about them. All we really know is that they worship this, like...thing, that's been following us. It's just this--
Noah: Really.
Alex: Yeah. And in--
Chris: For over a year.
Alex: Yeah, for over a year. And it's taken a toll on us. We also know that they actually tried to kill Chris over some documents, they broke into his house and they tried to kill him over pieces of paper. So they're pretty...dedicated, where they want...they try to get what they want. And they'll do anything, any means, to get it.
Chris: I wouldn't fuck with them, man. I would not fuck with them.
Noah: But I...I don't want to join this cult or anything, I just want to get information out of them and that's it. It's simple. I'm comin' in peace, and I'm leaving in like...it'll be five minutes.
Chris: A friend of ours, his name's Greg. He...he joined this cult. He's dead now. Okay? They tried to kill me. I don't think that it's a good idea at all, to like even try to contact them  I don't know what the fuck you would, like, accomplish from that, other than maybe kill yourself.
Noah: Give me another info--maybe like, more leads? Because I now only have one lead, and it was you guys. I saved up my fucking petty cash to come all the way up here again, and like...I thought you guys were gonna help me! I mean, look, I got the manifest right here  Let me get it out, hold on.
[Cut to a close-up on the copy of the manifest.]
Noah: Let me find where it is. It's...Asher. Right...Mary Asher, right there.
[Noah points at her name on the page.]
Noah: South, she was in Alabama. Female, 22 at the time, in 1985, the age fits. Alabama and...I don't know, "scar on right palm", I don't know what that means.
[Pull back to show the manifest lying on the table.]
Noah: But she's...I'm very sure that this is legit--
Chris: It's a lot of crossing-out.
[Alex is filming the manifest.]
Alex:  We've seen this before. The crossing-out. They don't...They try not to leave a trace.
[Chris, now standing, takes the manifest and examines it.]
Alex: What about Jesse? What if we gave him, like...Jesse never watches our channel. We found that out last time, when he didn't contact us after that video.
Chris: Why the fuck would we trust him? For all we know he fuckin' killed Greg, all right?
Noah: I mean, you guys wouldn't have to deal with him. I would just...I would be the one talking to him. I mean, you could give me his number, and I could maybe set up something with him.
Alex: Honestly--
Noah: If he...Is he in this cult, is he in this? Is he in the organization now? 
Chris: Yes. And listen, I would not fucking trust him. These people are murderers. They're insane, okay? I would not want you even fucking with them, because most likely you would die.
Noah: I've been through a lot of shit. I've been through a lot of other shit where I've been attacked and ambushed by things, and...I think I've been through enough, enough that I don't care any more.
Chris: Well, so've I, and it's a really bad idea.
Noah: This is more than two years with me! And I'm just to the point where I don't give a fuck any more. I just want to get answers no matter what. Even if it kills me. I want to know. And, like, Mary, she has a link to this journal. And in this journal, it's been hinted that there is something in it that will help me maybe hinder this thing. And if I can get to that, it would help both of us. And, I mean, if you guys would come with me to the...wherever this meeting would take place--
Alex: We won't come with you. I think if anything, we would probably drop you off there.
Noah: That's what I mean. Just be my chauffeur, just drive me there, you can lock your car, you can stay, and if after, I don't give you a signal, you can leave without me.
Chris: I don't know how I feel about this, man. It seems like it's a fucking bad idea. I mean, every time--
Noah: There's nothing else! Fucking nothing else I can do.
Chris: Every time, every time we tried to fuck with them, man, it was...I mean, I came this close to fucking dying. All right? Like...I don't know what happened to you, man, but that...
Noah: it's on Youtube. You can check it out. I've...I've been through a lot of shit, you've been through a lot of shit, we can agree on that. If I can help you guys out in any way, I'd love to. But first, you've gotta help me out. With this.
Alex: What if we just give him Jesse's number anonymously? I mean...
Noah: I'm gonna change my name to like Bill or something, when I...if I talk to Jesse. This is all gonna be all covert, and not involving you guys at all.
Alex: You can't mention us.
Noah: I'm not.
Chris: Not at all.
Noah: There's no way. I will not mention you guys. I won't even mention myself. I'm just gonna change my name, gonna go in anonymously, say...I'll probably be a son of Mary's that she didn't even know that she had, or something like that. I'll try to find out about her.
Chris: Okay, three conditions, all right?
Noah: Mm-hmm.
Chris: One. You do not fucking mention us the entire time. I--
Noah: Okay.
Chris: I don't care what they say to you, at all.
Alex: I don't care if they hold you at gunpoint--
Noah: Gotcha.
Alex: --You do not mention us.
Chris: They would find us and kill us, okay? They know where I live, they know where Alex lives. We'd be dead. They wouldn't follow you.
Noah: OK.
Chris: Second, if anything happens, if we see the slightest sign of anything, we're fucking out of there. All right?
Noah: Gotcha. I'm willing to do this. This means the world to me, I will--
Chris: This is on you.
Noah: Totally on me, totally on me. I will follow any of your conditions, as long as I can...you can drive me out there, don't have to come out, and I can get my interview. That is all I need. 
Chris: But third: don't die. All right? We, we've had enough shit happen to us, we don't want your death on our conscience, all right? Or the fucking police asking questions, because we haven't exactly been lucky with the police.
Noah: I know, me neither. I don't trust the police either, so...as long as we're mutual about this, and everything is fine on both sides, we can just...you can just give me Jesse's number, I can call him up, I can maybe try to set up a meeting, I'll change my name, and we will...
Alex: See what happens from there.
Noah: See what we can do. Yeah. Thank you so much, guys, this means so fuckin' much to me, you have no idea. 
Chris: Yeah.
Alex: Get his number--
[Chris takes out his wallet and opens it. Cut to a parking lot at night.]
Noah: He said to meet him at the bus stop.
[Camera pans to a city-bus shelter, a figure is seated on the bench. Camera zooms in.]
Noah: I think that's him. Shit, this is shady as fuck.
[He approaches the bus shelter, the person does not look up at him.]
Noah:  Jesse?
[A vague motion of the head from the person who reveals to be Jesse, wearing a baseball cap and with chin-length hair. Noah sits down.]
Noah: Jesse, is that you?
Jesse: Give this to the Overseer.
[He puts a slip of paper into Noah's hand and abruptly gets up and walks away.  Noah examines the paper.]
Noah:  "Tomorrow night, 9:00 pm, Atlantic Test Site".
[He turns it over and reads the reverse.]
Noah: "No funny business".  Heh.
[The final frame of the video is a image of the Order with the text: "WHAT FOOLS YOU ALL ARE".]
Analysis
At the end of the video there's an image of the Order with the words: "WHAT FOOLS YOU ALL ARE". The image of the cult members seems to be from the next video, "The Order".
The Overseer is a member of the Order that speaks with Noah in the next video, "The Order".
Gallery