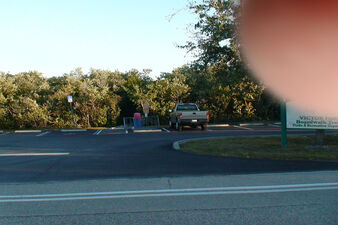 Victor Park
is a park located somewhere in Florida. The park is large and forested. The forests of Victor Park are known to be connected with the
Administrator
and the
Collective
entities in some way.
Noah
and
Milo
have visited Victor Park on multiple occasions. The park has a boardwalk, which leads through the forest to a lake, and a nature trail, which leads deeper into the forest. A tall observation tower is located near the center of the forest. Somewhere beyond the forest, there is a children's playground.
As shown in the video "Box Analysis", the Administrator appears with a boy who is speculated be Liam, a boy who died a long time ago. According to Noah's Formspring, the playground outside the park was dedicated to Liam's memory.
The Administrator seems to have a long history with Victor Park's Boardwalk.  On several occasions, the Collective has tried to lure Noah to the boardwalk, either to possess him or take him by force to their realm. It is possible that their powers and their influences on our world are stronger there.
It is also noteworthy that whenever the Collective instructs Noah to deliver Karl's Journal to them, they always say to bring it the Boardwalk.
Appearances
Analysis
Every Collective video has at least one shot of Victor Park or the boardwalk. The only exception is the video "INTERCEPTION".
Both Firebrand and the Observer had maded clear that Noah have to deliver the Journal on the Boardwalk.
Victor Park have at least 5 important locations: the Nature Trail, the Boardwalk, the Lakeside Deck, the Observation Tower and the Forest.
Gallery
Ad blocker interference detected!
Wikia is a free-to-use site that makes money from advertising. We have a modified experience for viewers using ad blockers

Wikia is not accessible if you've made further modifications. Remove the custom ad blocker rule(s) and the page will load as expected.